About Us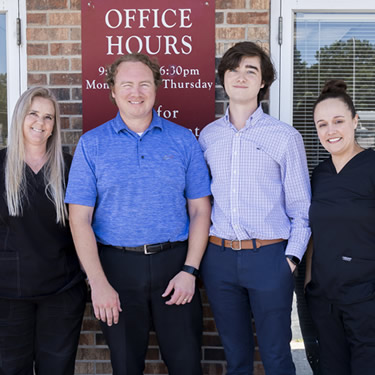 Founded in 2005 by Dr. James Doty, Back & Neck Pain Center has proudly served Independence and surrounding areas for nearly 15 years. From the beginning, we have been dedicated to bettering overall health within our community by natural means. Years later, our hearts remain fully committed to helping others get out of pain, feel better, and stay well through quality chiropractic care.
Our Practice Philosophy
Our practice aims to remove any interference within your body that's preventing it from operating at its full potential. We want to get you out of pain as quickly as possible and begin formulating a customized care plan moving forward.
No matter your concern—whether it be weight loss, thyroid problems, or fertility issues—we are confident that chiropractic care can complement your health and help you see lasting changes.
We Are Here for You
Dr. Doty and his professional staff are ready to help you live your life to the fullest!
While we provide care for some patients on a relief-basis only, most people that come to us for immediate pain relief continue to come back after feeling the results of our care. We understand that every patient has different needs. Our practice is here to assure you that we are here to listen to your concerns and help you find a solution that is right for you!
MEET DR. JAMES DOTY »
Success Is at Your Door
Back & Neck Pain Center has seen chiropractic care act as the hero in many patients' stories. There is one case in particular that we will never forget. Years ago, a man was hit by a car that flew into the window of a convenience store. Following the incident, he suffered constant, severe pain in his arm and hand and discovered a patch of dry skin on his back that would not heal. After only a few chiropractic adjustments, his hand and arm were back to normal, and his rash disappeared.
Contact Us Today
Success comes in all sizes. Even if you are experiencing a less severe complication, chiropractic care has the potential to offer you happier, healthier living. Contact our chiropractic office to learn more about the services we provide!

About Back & Neck Pain Center | (816) 833-1232