Chiropractic Care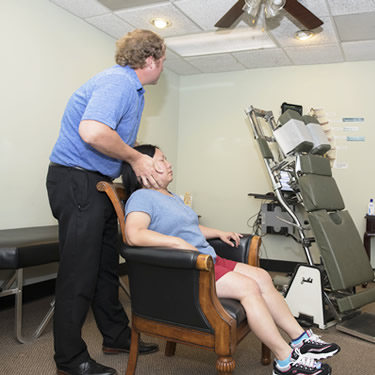 Chiropractic care is a manual, drug-free approach to health care that focuses on restoring the central nervous system through specific adjustments. A healthy central nervous system, which is made up of the brain and the spinal cord, ensures proper communication throughout the human body as a whole.
Back & Neck Pain Center believes that appropriate bodily communication equates to better overall health. By removing any interferences within the central nervous system, the body is able to express itself freely. While pain relief is the most immediate advantage of chiropractic care, long-term health is by far the most crucial benefit.
How It Helps
People of all ages, activity levels and conditions can benefit from quality chiropractic care. This natural healing method can offer a variety of health benefits in infants and elderly adults alike, including
Pain relief
Improved mobility
Better sleep
Increased range of motion
Better digestion
Restored energy
Are you ready to say goodbye to constant pain and discomfort? Chiropractic care might be the answer to better health you have long awaited.
Our Approach
Although Dr. Doty is well-versed in a broad range of chiropractic techniques, he most commonly performs the Diversified Technique, Activator Method®, trigger point therapy, and various extremity adjustments. While the Diversified Technique is a manual, hands-on approach to chiropractic care, Activator Method® relies on a small, handheld tool to locate and apply pressure to specific problem areas. Each chiropractic technique we utilize can be tailored to meet the needs of the individual.
No Need for Nerves
We understand that chiropractic newcomers may be hesitant or nervous about upcoming care. Our practice is here to assure you that you are in good hands with us on your side. During each visit, Dr. Doty will provide you with a complete explanation regarding what to expect as well as the type of adjustment he chooses to perform. Be sure to communicate your questions and concerns. Your comfort is important to us.
Back & Neck Pain Center is here to listen to your concerns and work with you to find a solution that is right for you! Contact our Independence practice for more information.
CONTACT US »

Chiropractic Care Independence | (816) 833-1232